• Listed alphabetically with clickable map locations displayed on each page.
• Search: sub-category, scroll through listings, Business Name, or by city/zip - start with category.
• Listings highlighted in blue (Deluxe|Premium) offer additional features and images.

We have found 1 items matching your search.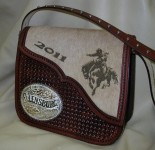 Julie Baugher Leather Design, JBLD, where leather is the ultimate in recycling.  Custom items including Chaps, purses & handbags, Awards...gift items and much much more!