• Listed alphabetically with clickable map locations displayed on each page.
• Search: sub-category, scroll through listings, Business Name, or by city/zip - start with category.
• Listings highlighted in blue (Deluxe|Premium) offer additional features and images.

We have found 2 items matching your search.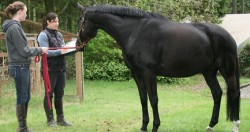 Kate Shook offers professional certified equine appraisals for multiple breeds an disciplines.

Experienced Professional Certified Appraiser & ConsultantAll Breeds & Disciplines Consulting and Expert WitnessServing the Horse Industry Since 1974Nationwide Service